Marketing Campaign Development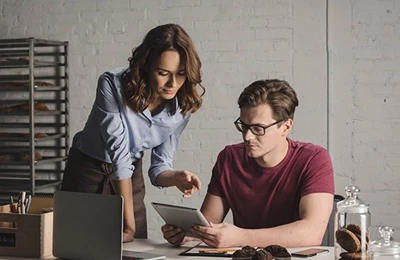 Drive qualified leads to your business with a customized marketing campaign.
The best direct mail marketing companies know print campaigns can still be very effective with creative and personalized mailings. Well-designed brochures distributed at the right locations can bring in new customers and generate brand awareness. All marketing and branding materials should be customized to match your corporate image.
Digital campaigns, from social media to pay per click campaigns, can help with brand exposure and drive more traffic to your website. In most cases, a single campaign approach will not generate the type of return you expect. The most successful marketing plans usually combine traditional and digital campaigns.
For most small business owners, integrating different types of campaigns may seem complicated at first. With the right guidance, you can develop a strategic marketing campaign that reaches your target audience and gives you a good return on investment.
Your marketing campaign can include a combination of multiple elements. The most successful campaigns use a combination of marketing collateral, direct marketing channels, corporate image marketing, digital and impact marketing.
Combining print campaigns with your digital marketing efforts is easier than ever with the right tracking methods. Measuring the success of your marketing efforts will help you understand what strategies are working best and where you should be making changes. Testing, measuring and learning in the process will be very important for the success of a campaign. The KKP team can assist in setting up your campaign goals and KPI's (Key Performance Indicators).
The team at KKP provides clients with skilled advice, outstanding value, and a total commitment to service. We combine an unmatched understanding of traditional mediums such as print with a flair and passion for newer channels such as the web, social media and email. We can work with you to develop a campaign with the right mix for you.
Benefits
The top benefits of using KKP's marketing campaign development services are:
Collaboration for setting the goals of your marketing campaign plan.
Personalized advice to pick the best type of campaigns to reach your goals.
Assistance defining the target audience.
Determining what your offer and call to action will be.
Guidance on setting up metrics and performance indicators to measure the campaign.
Quoting and budgeting for additional services needed for print and digital campaign.
Leading nurturing strategies.
If you have a healthy budget, allocating the right amount for each marketing effort will be crucial. At times, having too many options to choose from can make a company feel overwhelmed. The KKP team will help you determine the marketing channels you should use. If you have a modest budget, it is still possible to do more with less and develop a powerful marketing campaign that is as impactful as it is cost-effective. KKP can help you make the most of your marketing endeavors with the right approach.
A good campaign should always follow the following structure:
Goals, KPIs and tracking methods: You should define your goals before choosing the marketing channels. For your digital marketing campaigns setting up KPIs will be easier than with traditional marketing. There are many useful strategies you can implement to measure the success of these as well.
Audience Targeting: Defining who you are trying to reach with your campaigns will help you determine the best strategies. Whether you are marketing to small business owners or to individuals will make a big difference in the strategies you use.
Compelling Message: To determine the best way to engage your audience you will need to offer what they are looking for. The best marketing campaigns remain memorable because of the message they were able to convey.
Media plan and budgetary allocations: Defining the marketing and branding materials you will use will help determine the right channels and necessary media to reach your audience. This is a crucial part of the marketing campaign process.
Asset production:Your campaign will require marketing collateral and diverse digital assets. Getting high-quality products in a timely fashion will be one of the first stages of the marketing campaign.
Campaign Execution and monitoring: To ensure your marketing strategy is going according to plan, you will need to monitor each stage of the process to guarantee the best results.
Reach your target market with KKP's step by step marketing campaign development service!
Planning the right strategy is critical to achieving successful results. The KKP team has experience developing successful multi-channel marketing campaigns. We can help you plan the process from beginning to end, from strategy to tactical execution. We can partner with you to develop a complete impact marketing strategy or just one piece of the plan. With comprehensive planning, we can help you define what success will look like for your business. Contact us!